This interview is the second installment in our Child and Teen Travel interview series. Launched with an in depth interview with Hannah Miller of EdventureGirl.com and The Edventure Project, this series strives to provide a look at what long-term travel is like for children and teens through the eyes of the experts….. the kids themselves!
"Tigger" is the 11-year old member of the Windwalker Duo. He and his Dad have been slowly traveling across the globe and recently hit their 600th day of travel! Determined to "give his son the world", Talon Windwalker has been world-schooling Tigger while traveling since Tigger was 9 years old. Days are anything but typical and education means adventure, new experiences, and fun for this family! So far, this father-son duo has visited 11 countries with plans for many more! Below is a short and sweet interview with Tigger, a man of few written words. To read more about the adventures of Tigger and his dad, check out 1dad1kid.com.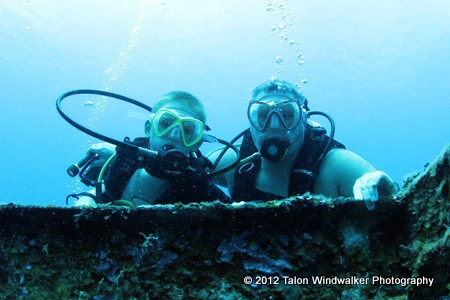 Why do you think it is a good idea to travel with kids and teenagers?
I think they get to experience and learn more.
Your family is very unique! What have you learned about your Dad while traveling with him that you did not know before?
He can walk longer than me without getting tired before I'm pretty pooped. I pretty much knew everything else about him before we left the States.
What has been your favorite destination so far and why?
I really liked Utila (Honduras) because I was very popular there, and it's a small island. That's also where I did my first scuba diving.
What does a "school day" look like for you?
I watch YouTube videos and play Roblox and Minecraft. I don't do normal school.
What is the most awesome thing you have learned while on the road?
Scuba diving. It's a whole new world!
Have you tried any weird foods while traveling that you were surprised to find you liked?
Camel. I didn't think I'd like that too much, but I do.
You celebrate holidays on the road now. Can you tell us about your Chrismakah celebration this year?
We went to a beachside resort in Morocco for a few days. We swam and ate at a special restaurant in the resort. Dad gave me awesome presents.
What do you want to be when you are an adult?
I don't know yet, but probably a video and computer game tester.
Do you like traveling or staying in one place better?
Well, it depends. Like, if we're in a rush, I like to stay in 1 place. But if we've been moving very little, I like to pick things up sometimes.
If your Dad told you that you could choose the next 3 places you visit, where would you choose?
Paris (We're going there in January 2013!), Utila, and China.
Do you have any tips for adults traveling with kids?
Sometimes your kids might not like walking a lot.
Do you have any tips for kids traveling with adults?
I wouldn't bring too much stuff with you.
Check back for more interviews with young travelers! What would you ask a traveling teen/child if you could only ask one question?